These healthy sushi bowls are a synch to make and would make a great work lunch too.
If you prefer your salmon cooked, marinate (combine 50ml sake, 1T grated ginger, 2t honey and 50ml soy sauce) and bake for 8 minutes at 250C – rest for a couple of minutes, remove the skin and then flake and divide amongst your bowls.
The bowls can be adapted according to taste – try adding edamame, cucumber or roasted seaweed.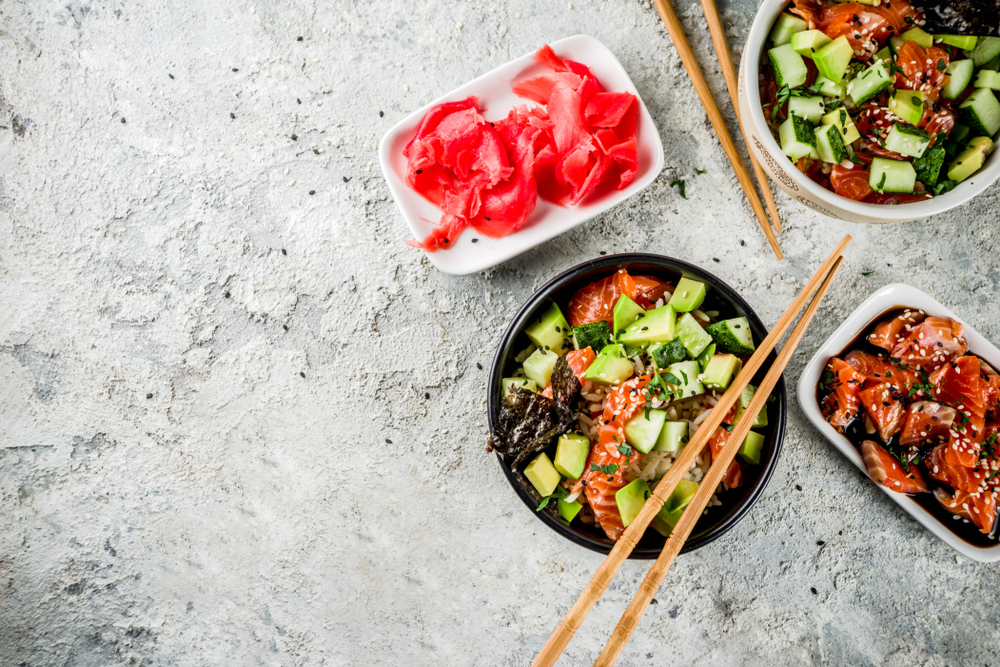 Avocado & Salmon Sushi Bowls
Ingredients
300g sushi rice
2T rice vinegar
1T sugar
1/2T salt
1X350g skinless salmon fillet
2 avocados, skin and stones removed and thinly sliced on an angle
1 lemon
4t pickled ginger
2 spring onions, thinly sliced on an angle
Wasabi to taste
4t toasted sesame seeds (black and white if possible)
1 red chilli, deseeded and thinly sliced
Small handful coriander leaves
Directions
Rinse the rice by placing in a sieve under the tap – once the water runs clear, shake off the excess water and put in a large pan with 400ml water. Bring to the boil, turn the heat down, cover and cook for 10-12 minutes until the rice is almost cooked. Remove from the heat and leave covered for 10 minutes.
Thinly slice the salmon on an angle and arrange on a plate with the avocado. Drizzle with soy and lemon juice, cover and refrigerate for 10 minutes.
Tip the juices from the salmon and avocado into the rice, add the sugar, salt and rice vinegar and mix evenly.
Divide the rice between the bowls and arrange the salmon, avocado and other ingredients on top.
Shop Now
GISBORNE HASS AVOCADOS
Our spray-free avocados are Hass, the most common commercial variety in New Zealand – and for good reason. We source ours from two local growers, John & Irene Honey, and David & Judy Grey of Avogrey Orchard in Ormond, Gisborne. David follows in his father's footsteps, who introduced the Hass variety to New Zealand in the 1950s, and his grandfather, Charles Grey, who started New Zealand's first avocado orchard in Gisborne in 1916.
Hass avocados have a lovely silky, creamy texture and are perfect for guacamole, salads, on toast or simply eaten with a spoon. Green and hard when unripe, they slowly turn a dark green/black colour and soften when they are ready to eat.
Once picked, avocados take 7-14 days to ripen depending on where they are stored. Warmer temperatures speed up ripening and avocados ripen faster towards the end of the season. The fastest way to ripen an avocado is inside a brown paper bag with a ripe banana in the hot-water cupboard. Once ripe, you can keep them in the fridge for a few days if required.
Our avocados are handpicked, packed and transported with care – no squeezing, poking and prodding by other shoppers at the supermarket means no bruises. Handled with the utmost care, once you try one of our delicious avocados you won't believe what you've been missing out on!