This simple dessert is Smitten Kitchen's simplified version of the famous Cordon Bleu recipe "Caramel Oranges" (also try our twist on this classic – Persian caramel oranges).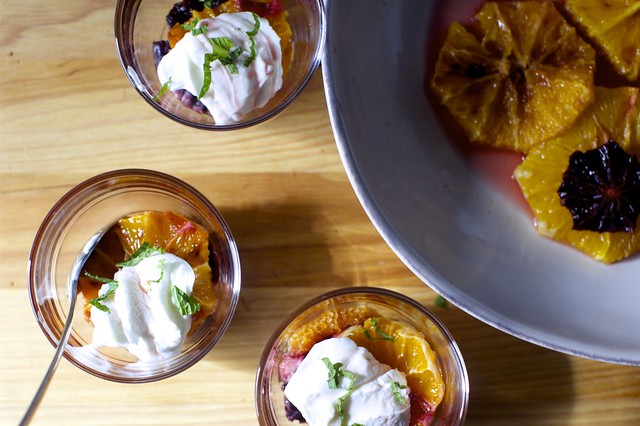 Delicious as dessert, but also for breakfast – add some toasted nuts or muesli. For extra thick and velvety yoghurt, place it in a paper-towel-lined sieve to strain overnight.
CARAMELISED BROWN SUGAR ORANGES WITH YOGHURT
Ingredients
3 or 4 oranges
Canola oil spray
Brown sugar
Greek yoghurt (strain to thicken if desired)
Mint leaves, thinly sliced
Directions
Top and tail the oranges, exposing the flesh inside and creating a flat edge to balance the oranges on while removing the skin and pith. Slice the skin from the sides taking care to remove all the white pith. Then slice the oranges into 5mm thick discs.
Line a baking sheet with foil and lightly coat it with Canola spray or, if preferred, rub with butter. Arrange orange slices in a single layer. Sprinkle a little brown sugar over each. Get the grill nice and hot and place the oranges under the grill until they start to brown on top (approximately 5 minutes).
Transfer oranges and any juices to a serving dish, cover with cling film and refrigerate for several hours or overnight.
To serve, place a few orange slices in a pretty cup or glass and to with a dollop or two of yoghurt, a drizzle of juices and the finely sliced mint.
📷 Smitten Kitchen
Shop Now
GISBORNE ORANGES
There are oranges and then there are Gisborne oranges. Our incomparable Navel oranges are loved throughout New Zealand. A winter orange, Navels are seedless, juicy, and easy to peel and segment. Our region has the perfect climate of sunny warm days and cool nights to be able to grow one of the world's favourite fruits.
Our oranges are grown on trees we planted in 2003. We knew our soil comprised exceptionally fertile heavy silt loam, renowned in our district for growing just about anything, but it wasn't until we started selling our oranges direct to customers that we realised just how remarkable they are. Flavoursome, juicy and bursting with goodness, they have to be tasted to be fully appreciated.
Our oranges store well at room temperature out of direct sunlight for a week, but will last much longer in the fridge where their vitamin content is undiminished.
Available from late June until early November.