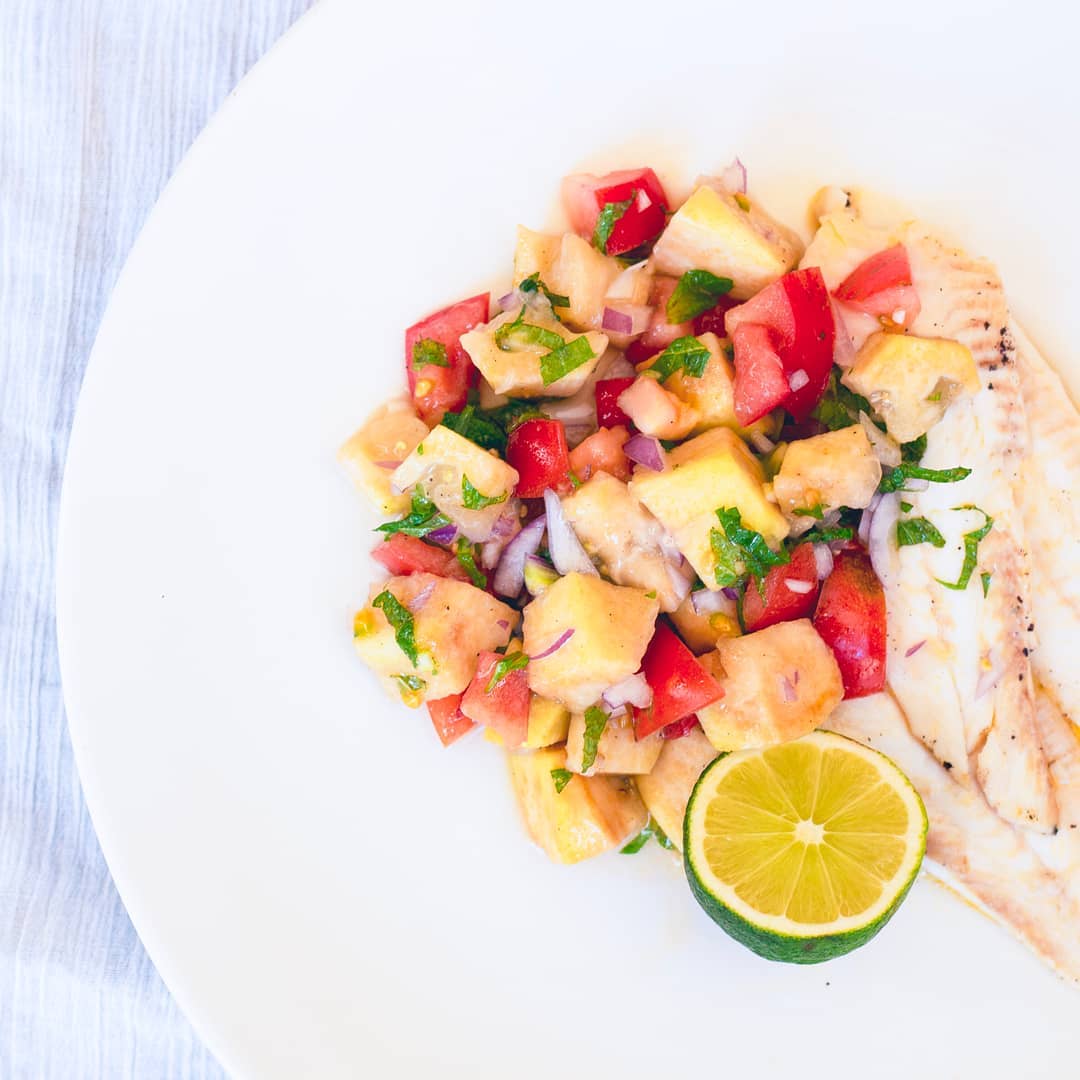 I adore Feijoas. My grandparents had a tree and we would pick them up off the ground and rip them in half and eat them with teaspoons right there in the garden with my grandfather.
Feijoas conjure up memories of childhood freedom and school holiday fun.
Todays recipe isn't what I think you expect when I say feijoas. It isn't crumble, or a loaf, or even muffins. No I've gone the savoury route. Ive made Pan Fried Lemon Sole with Feijoa Salsa and it is delicious.
The sweet and tangy taste of the feijoas balance out the herbs and red onion and it is the perfect compliment to the Sole.
You want to use feijoas that are just ripe, as if they are too soft they will go mushy in the salsa.
I have used Lemon Sole but you can use any white fleshed fish that is good for frying
You could serve with warm bread and butter or creamy mashed potatoes on the side for larger eaters.
Pan Fried Lemon Sole with Feijoa Salsa
Ingredients
2 fillets of lemon Sole, trimmed and cut down the middle ready to fry
3-4 feijoa (size dependant)
½ red onion
½ a Lime
2 tomato
1/3 cup Herbs – mint &/or coriander
Salt & Pepper
Olive oil
Vegetable Oil & butter for frying
Directions
Slice your onion and soak in cold water for ten minutes. This is to get the acidity out of the onions.
Roughly chop your salsa ingredients except for the lime
Drain your red onion and then finely dice the pieces.
Squeeze the lime over the salsa and season with salt & pepper and a drizzle of olive oil
Season the fish on both sides and cook in a medium pan with a splash of oil and a small knob of butter. The fish only needs about 2 mins each side to cook.
Serve the fish over the salsa
Enjoy!
Shop Now
GISBORNE FEIJOAS
A quintessential New Zealand fruit, the feijoa is also known as a 'guavasteen' or 'pineapple guava'.
Gisborne has the ideal climate for growing feijoas, and we've carefully selected the best available. Our feijoas are grown at Guavasteen Grove, situated on the banks of the Waipoa River on the Poverty Bay Flats. The rich river silt and temperate climate provide ideal conditions for producing juicy, plump, sweet fruit. Soil tests show a perfect balance with no need to add fertilisers so the 180 Apollo and Pounamu trees are free spirited and abundant with no chemical interference.
Spray-free and naturally pollinated by birds, the trees produce a beautiful red flower in November and by early April the trees drop their fruit as they ripen. The season usually lasts 6-8 weeks and the big fruit are in full swing within the first three weeks. Our fruit is hand-touch picked for maximum freshness and shelf life. The ideal time to eat the fruit is 5-8 days from picking as this allows the full flavour to develop.
If feijoas are not quite ripe, they can be stored in a fruit bowl for a couple of days. Once ripe, feijoas should be stored in the fridge. If not refrigerated, ripe feijoas only retain their best flavour for 2-3 days. After this, the flavour deteriorates without any change in the fruit's outward appearance.
Our fruit is used in a multitude of recipes, has appeared in MindFood magazine and has been made into wine, cider and wheat beer. Feijoas are also popular in restaurants and bars where they feature in margaritas and other cocktails. Feijoas freeze well when cut and scooped, but nothing beats the taste of a perfectly ripe fruit cut in half and eaten with a spoon. One feijoa is never enough when they taste this good and some people even eat them skin and all.
Available between April and May.