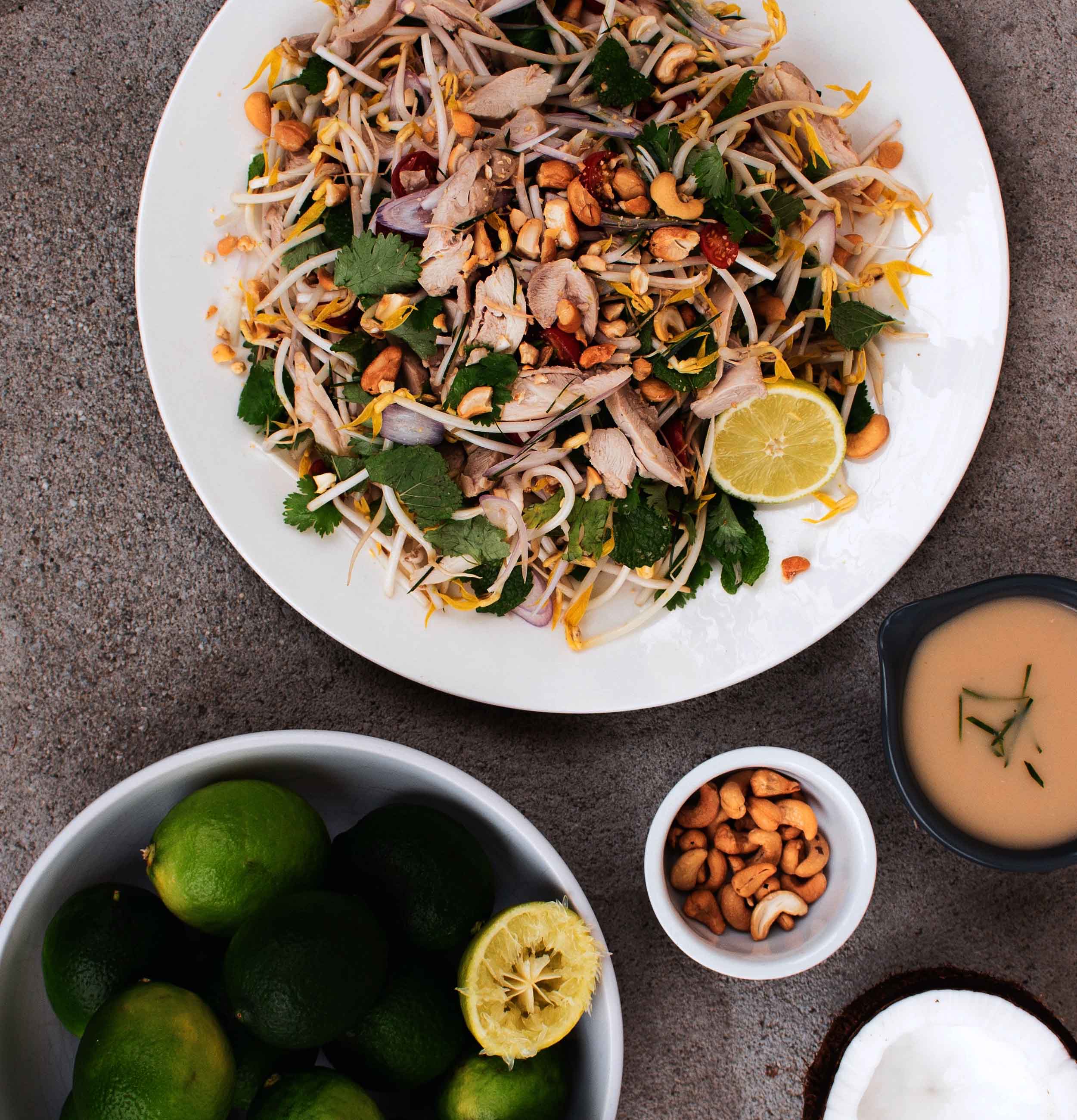 Check out this delicious chicken dish from Jana MacPherson , that is fresh & light but does not compromise on flavour.
Punchy herbs and a creamy dressing all spiked with our beautiful NZ limes.
Coconut & Lime Poached Chicken Salad
Ingredients:
For the Poached Chicken
4 x Chicken thigh boned and skin removed (you can use breast)
1 can Coconut milk
2 Kaffir lime leaves
Juice of 1 @twistedcitrus lime
2 teaspoons Brown or palm sugar
Small thumb sized piece of Ginger - grated on a microplane
Fish sauce or salt to taste
Salad
250 grams Mung Beans
Large handful of Cherry tomato
2 kaffir lime leaves vein removed and very thinly sliced
Generous amount of Coriander, I used a large pack from the supermarket
3 sprigs Mint
Zest & juice of 1 twisted Citrus Lime
1 x Shallot finely sliced
Roasted & Salted Cashews to garnish
Directions:
Add all poaching ingredients to the pan. Add the kaffir lime leaves in whole, but give a gentle crush in your hands before putting in.
Bring up to a boil, taste for seasoning and add chicken, reduce to a simmer, put the lid on and cook until chicken is cooked, around 4 mins each side.
Put chicken & poaching liquid in the fridge to cool. Sieve the liquid if needed.
Prepare salad ingredients by picking leaves off herbs and halving cherry tomatoes, add everything to a large bowl and toss.
Get chicken from fridge and slice. Add cooled chicken to your salad ingredients. Toss and transfer to your serving plate.
Sprinkle with cashew nuts & serve with poaching liquid and an extra lime wedge on the side
Now devour!
Shop Now
GISBORNE LIMES
Limes are valued both for the acidity of their juice and the floral aroma of their zest. Our limes are the Bearss variety (also known as Tahitian or Persian), which are famed for their size and juiciness.
Limes really pack a punch in the flavour and nutrition stakes and are a key ingredient in Mexican, Vietnamese and Thai dishes. (The Mexican lime - also known as the Key lime - is smaller than the Bearss variety and is rarely seen in New Zealand.)
Limes are also used extensively in drinks to add unparalleled flavour – from a wedge in the neck of your Corona to a chunky muddle in your mojito, once you've had the real thing, no substitute will do.
Limes store well at room temperature out of direct sunlight for at least a week (and become juicier during this time), but will store much longer in the fridge where their vitamin content is undiminished. They can also be frozen whole, or juiced into ice-cube trays.
Packed with vitamin C, limes are harvested when dark to pale green. A yellow lime signifies full maturity and maximum juice content.
Available between March and September.