This recipe is from Anne Sijmonsbergen's cookbook Eivissa. The buttery shortbread is topped with candied lemon slices so they are as pretty as they are delicious.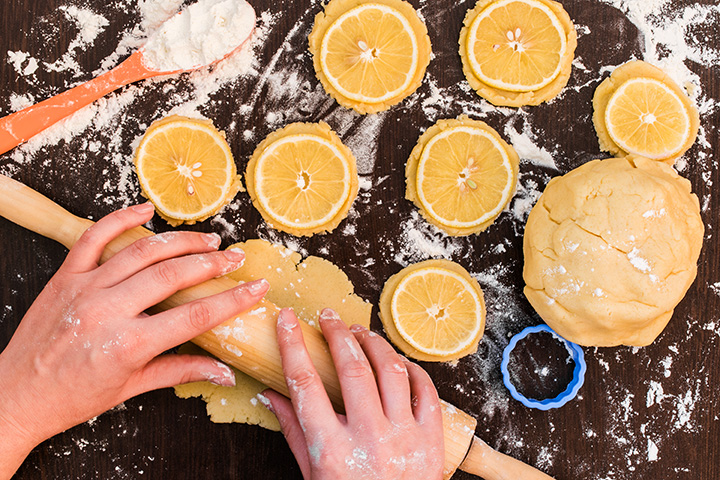 Lemon Biscuits
Ingredients
~Biscuits~
180g plain flour
60g caster sugar
125g butter, chilled and diced
Zest of 1 lemon
1T lemon juice
~Candied lemon slices~
150ml water
150g caster sugar
2 large lemons, sliced into 0.5cm thick rounds
Directions
First make the candied lemon.
1. Cover a wire rack with greaseproof paper.
2. Bring water to the boil in a large frying pan. Add the sugar and stir until completely dissolved.
3. Cover the bottom of the pan with a single layer of lemon slices, reduce the heat and simmer for 6-8 minutes or until the lemon becomes translucent.
4. Transfer the fruit carefully to the rack and repeat until all the lemon slices are done.
5. Set aside to cool.
To make the biscuit dough, combine the flour and sugar in a bowl and rub butter in with your fingertips until the mixtures resembles fine breadcrumbs.

Add the lemon zest and juice, combining until the dough forms a ball, then wrap it in cling film and refrigerate for 30 minutes to an hour.
Preheat the oven to 180C.

Roll out the chilled dough on a floured surface to 0.5cm thick. Sprinkle with sugar and cut into about 18 rounds using an 8cm diameter cookie cutter.
Divide the rounds between two ungreased baking trays and cook for 15-20 minutes until just golden.
Remove from the oven, transfer the biscuits to a wire rack and allow to cool.
To serve, top with a slice of candied lemon.
Makes 18.
Shop Now
GISBORNE LEMONS
Our lemons are grown by Brian and Dianne Williams – we first spotted them right across the road from our house on the way to drop the kids at school, globes of gold ripe for the picking. Brian grows lemons exclusively – they are his passion and he pours all of his skill as an orchardist (not to mention his magic homemade seaweed fertiliser) into growing the very best Meyer and Yen Ben varieties.
Lemons are used for culinary and non-culinary purposes throughout the world, primarily for their juice and zest. They make such a difference to food's flavour and are used so often in cooking that they are considered almost indispensable. They contain a high amount of vitamin C.
Lemons store well at room temperature out of direct sunlight for at least a week, but will last much longer in the fridge – up to a month in a sealed plastic bag – where their vitamin content is undiminished.
We supply two varieties.
Meyer: for maximum juice
The Meyer lemon is the most commonly grown lemon in New Zealand. It is a cross between a lemon and mandarin and is sweeter than the Yen Ben variety. It is a soft fruit with high juice content.
Available from April to November
ORDER NOW / REMIND ME IN APRIL
Yen Ben: for lovers of zest
Considered a 'true lemon' due to its more tangy flavour and sharp citric bite. Yen Ben has a thin, pale skin, which is fantastic for zest. The fruit are quite firm so juicing can be hard work.
Available from December to March.