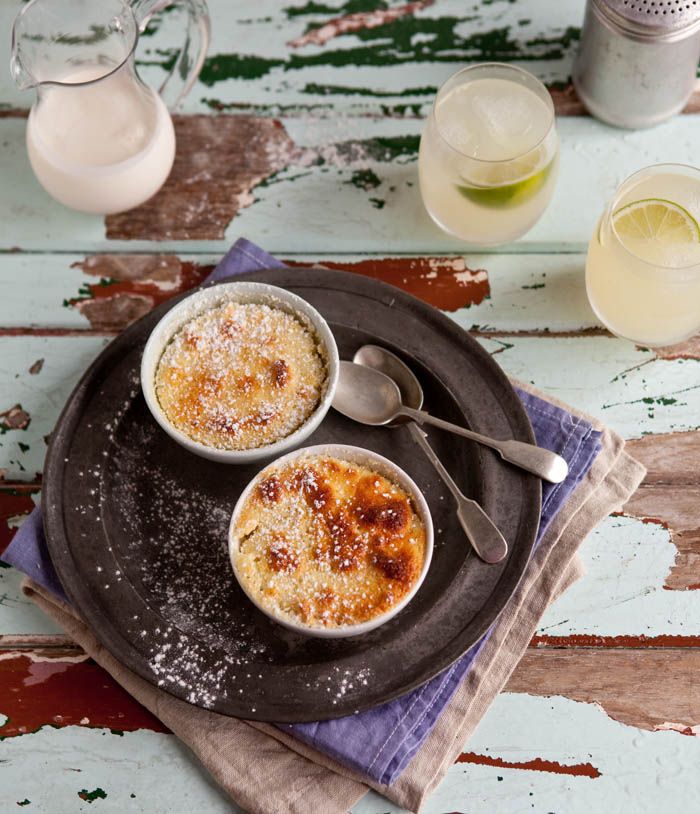 This Bill Granger recipe is the ideal autumn pudding for when limes are just coming into season and the nights are closing in. The warm pudding has a light fluffy sponge on top and gooey custard beneath.
Thanks to Sam at Drizzle and Dip for the gorgeous photo.
Lime and Coconut Delicious
Ingredients
60g butter
200g caster sugar
4 limes, juice and zest
3 eggs, separated
125g self-raising flour
4T desiccated coconut
300ml milk
Icing sugar for dusting
Cream – to serve (whipped or poured)
Directions
Preheat oven to 180C and grease either 6 individual ramekins or 1 larger (litre-size) oven-proof dish. Use an electric beater to mix butter and sugar until light and fluffy. Add the lime zest, lime juice and egg yolks and mix to combine. Add the flour and desiccated coconut and mix again, then pour in the milk and mix to a smooth batter.
Beat the egg whites until just before they become stiff peaks. Gently fold one spoon of the whites into the batter mixture and, once combined, fold in the remaining egg whites. Pour the mixture into the prepared dish(es), then place in a baking tray half-filled with boiling water.
Cook for 20-25 minutes for the individual puddings or 40 to 45 minutes for the large pudding, until set and golden. Remove from the oven and dust with icing sugar before serving warm with cream.
Shop Now
GISBOURNE LIMES
Limes are valued both for the acidity of their juice and the floral aroma of their zest. Our limes are the Bearss variety (also known as Tahitian or Persian), which are famed for their size and juiciness.
Limes really pack a punch in the flavour and nutrition stakes and are a key ingredient in Mexican, Vietnamese and Thai dishes. (The Mexican lime (also known as the Key lime) is smaller than the Bearss variety and is rarely seen in New Zealand.)
Limes are also used extensively in drinks to add unparalleled flavour – from a wedge in the neck of your Corona to a chunky muddle in your mojito, once you've had the real thing, no substitute will do.
Limes store well at room temperature out of direct sunlight for at least a week (and become juicier during this time), but will store much longer in the fridge where their vitamin content is undiminished. They can also be frozen whole, or juiced into ice-cube trays.
Packed with vitamin C, limes are harvested when dark to pale green. A yellow lime signifies full maturity and maximum juice content.
Available between March and September.