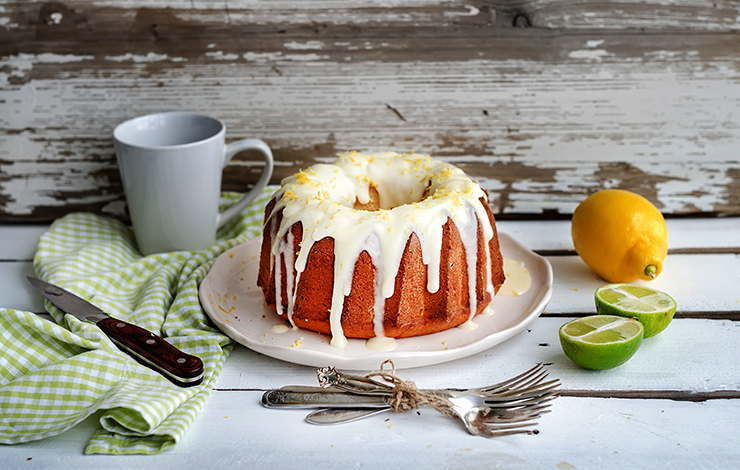 This incredibly simple and quick citrus cake is moist and zesty. Add a cup of dessicated coconut for a tropical twist and reduce the cooking time slightly. Serve with a generous dollop of whipped cream folded into luscious Greek yoghurt, a drizzle of honey and a candied lemon slice.
Lemon & Lime Cake
Ingredients
1c yoghurt
3/4c vegetable oil (Canola is fine)
2c sugar
2 eggs
2 limes and 3 lemons, zest and juice
4T sugar
2c sifted self-raising flour
Directions
Whisk together yoghurt, vegetable oil, 2 cups sugar, 2 eggs, and zest of lemons and limes.
Then add the flour and mix until smooth.
Place in greased and lined 22cm round cake tin and bake at 180C for 50-60 minutes or until a skewer comes out clean.
Mix juice of lemons and limes with 4 tablespoons of sugar until dissolved.
While still in the cake tin, poke holes in the surface of the cake with a skewer and then pour over the citrus and sugar mixture.
Once absorbed, remove cake from tin and set to cool on a wire rack.
Serve with Greek yoghurt or a combination of cream and yoghurt and some candied lemon peel or slices.
Shop Now
GISBORNE LEMONS
Our lemons are grown by Brian and Dianne Williams – we first spotted them right across the road from our house on the way to drop the kids at school, globes of gold ripe for the picking. Brian grows lemons exclusively – they are his passion and he pours all of his skill as an orchardist (not to mention his magic homemade seaweed fertiliser) into growing the very best Meyer and Yen Ben varieties.
Lemons are used for culinary and non-culinary purposes throughout the world, primarily for their juice and zest. They make such a difference to food's flavour and are used so often in cooking that they are considered almost indispensable. They contain a high amount of vitamin C.
Lemons store well at room temperature out of direct sunlight for at least a week, but will last much longer in the fridge – up to a month in a sealed plastic bag – where their vitamin content is undiminished.